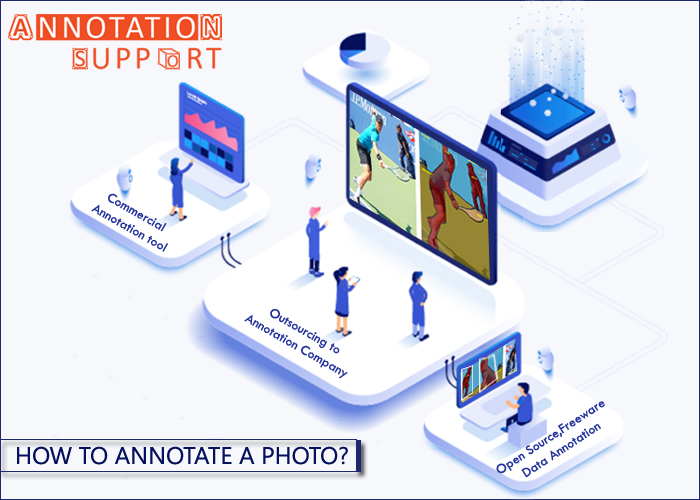 While the variety and complexity of possible information in your photo data are bound to grow every day, getting photographs detailing your specifications can be really difficult now. Further delaying your project and, as a result, consuming your time to market. So, what's the solution?
What is the best way to extract details from a photo without taking too long?
The best solution to this is photo annotations. Commercially available, open-source, or freeware data annotation technologies that may be used to annotate pictures have been developed to solve this problem. If you're dealing with a lot of data, you'll also need a professional team to annotate the photographs. Many workers also utilize tools to annotate pictures, multi-frame images, and more. Further, you need to carefully consider the approaches, tools, and people you pick for photo annotation. So, let's begin and see how your work gets more manageable with this tool.
What's exactly photo annotation?
Photo annotation is the process of categorizing an image using a combination of human-powered effort and computer-assisted assistance. It's crucial to develop computer vision models for image segmentation, classification, and detection applications in which annotation helps. Photo annotation can vary from a single label for an entire image to annotating every group of pixels inside an image.
The most frequent uses of picture annotation are to detect objects and borders and to segment images for purposes such as meaning or whole-image understanding. A substantial quantity of data is required to train, verify, and test a machine learning model for each of these applications.
Where is its applicability seen?
How to annotate a photo?
Commercial, open-source, and freeware data annotation technologies are the three types used to annotate a photo. You'll also need a skilled workforce to annotate the photo if you're dealing with a lot of data.
A data annotation company will be used to apply annotations to your photo data. The number of data annotation technologies available for picture annotation use cases is rapidly increasing. Some annotation works are accessible commercially, while others are open source or freeware. In most situations, you'll have to customize and choose accordingly.
But before deciding how to carry out your photo annotation project, consider the size of the photo annotations you'll require, the budget, and the delivery time. Like you can go for
In-house annotation services
Use the resources at your disposal to manage your photo annotation project. Save money, ensure data privacy and security, and have direct control over your project by choosing this choice. However, if your team members require training, in-house photo annotation might be time-consuming. Consider outsourcing your picture annotation job for a speedier and more successful outcome.
Outsourcing
When providing high-quality results within the deadline, please leave it to the professional annotation services company. To avoid unnecessary tensions, ensure that the staff is trained, verified, and adequately managed when outsourcing picture annotation services. Alternatively, do a trial study to assess the photo annotation service provider's performance and quality.
WRAP UP!
For photo annotation, there are a plethora of great options nowadays. Some solutions are tailored to certain sorts of labeling. In contrast, others provide a diverse set of features to support a wide range of applications. Choosing a specialist annotation Services Company with a broader range of features or capabilities will help your present and future picture annotation requirements. Thus, check for the ones who can generate high-quality data and provide outstanding customer service.
Collaborating with them will develop the most effective approach for your project and deliver excellent outcomes by integrating sophisticated tools with their expert annotators. Remember that no tool can accomplish everything, so pick services that can grow with you as your needs evolve. Be wise. Choose the best annotators to get the desired results rather than relying on any annotation tools.